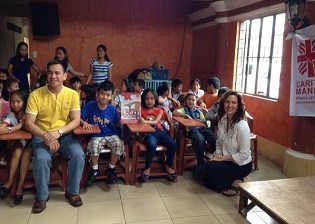 On April 9th, five months after Super Typhoon Haiyan-Yolanda hit the Philippines, a team from Teekay Manila traveled to the Tacloban region to provide further donations to those impacted by the typhoon.
The impact of the typhoon was evident everywhere – damaged buildings, missing roofs, no walls, rubble piles and refugee tent cities and aid tents around the airport area.
Our team participated in different events in the area. The first ceremony was at a small Catholic school, Caritas Manila, in Burauen, Leyte where Teekay donated 150 desk/chairs to the young students. The second ceremony was in a fishing community to present a donation of 20 motorized fishing boats and supplies.
It was a moving day but also very inspiring. We're very proud to support these communities and help them rebuild their lives.
For more stories, follow us on Facebook and Twitter.
Photo credit: @CaritasManila
Donate in kind! 150 school desks donated by Teekay Shipping for Immaculate Conception Academy in Burauen, Leyte pic.twitter.com/LoGBn89XGF

— Caritas Manila, Inc. (@CaritasManila) April 12, 2014
Ms.Lois Nahirney, EVP-Teekay Corp.,addressing fisherfolks-beneficiaries of their cash donation for livelihood project pic.twitter.com/upse6CC0TP

— Caritas Manila, Inc. (@CaritasManila) April 12, 2014
Burauen, Leyte: Grade 3 students of Immaculate Conception Academy sing songs of gratitude to our friends from Teekay pic.twitter.com/k1G9X1WmHl

— Caritas Manila, Inc. (@CaritasManila) April 13, 2014