Teekay acquires Units for Maintenance and Safety
From what started out as a small company, solely focused on the conventional tanker market, Teekay has developed into market leader that offers diverse, reliable and safe solutions to offshore companies. With Teekay's acquisition of Logitel Offshore Holdings, this tendency continues.
Logitel Offshore Holdings was established in 2013 between Sevan Marine ASA and CeFront Technology AS. With exclusive rights to Sevan Marine's cylindrical hull design, Teekay now offers unique offshore accommodation solutions.
The innovative design of units for maintenance and safety provides better stability, less seasickness, more storage space and higher uptime. Indeed, this new, innovative vessel type offers a competitive alternative to the offshore accommodation market's existing units for maintenance and safety. A combination of operational leadership and existing offshore capabilities enables Teekay in confidently incorporating this new and exciting project area in its business portfolio.
Various reasons for acquiring Logitel Offshore Holdings exist. However, two important incentives are the age of the current floating accommodation fleet and the future demand for floating accommodation units (FAU). The average age of accommodation fleet is 24 years. Besides the replacement of old FAUs with new vessels, projections suggest a strong future demand for FAUs. Thus, the need for new as well as better performing FAUs will increase in the coming years.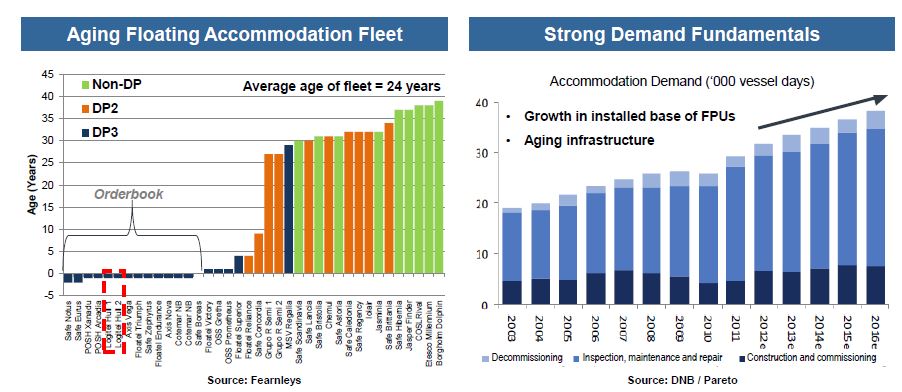 With access to multiple debt and equity capital markets, Teekay is able to acquire already established companies with prolific outlooks such as Logitel Offshore Holdings. This way, Teekay Corporation's daughter companies, including Teekay Offshore, ensure stable and constant cash flows to investors as well as Teekay Corporation.